History of Frank's Automotive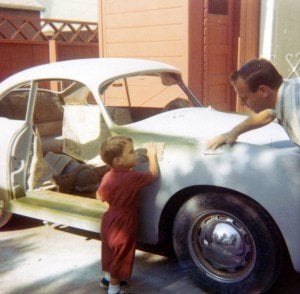 Nick & Frank circa 1969
restoring a Porsche 356
Frank Lettini came to America after leaving Italy in 1959. After serving in the U.S. Army he came back to Sacramento and found work at a local Volkswagen dealership. He excelled in his position, eventually became the shop foreman and quality control. However, Frank had a vision for a different, more personal approach to automotive service and repair. In 1969 Frank decided to open his own shop where he worked on nothing but German vehicles.
His son, Nick F. Lettini, started working along side his father as a small child. Nick would spend summer vacations at Frank's Automotive helping his father and team of technicians. Many of our clients have seen Nick grow up in the business. The father and son's love of providing exceptional service and taking care of customer's vehicles was shown in their outstanding work.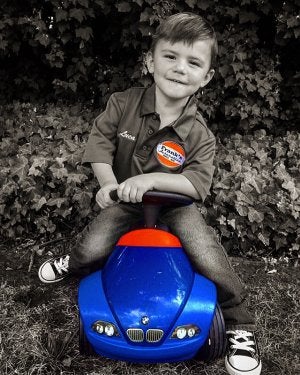 Nick's Son Luca
In the 1980's, Nick began to take a more active role while attending Jesuit High School. While attending Jesuit, Nick began spending afternoons and vacations learning the trade and seeing his father's vision. In 1997, the father and son duo became partners. Since then, Nick has taken the reins of the business and expanded on his father's dream; providing Sacramento's German Vehicle Market with an alternative to the dealerships.
Frank's Automotive services to a niche market only specializing in German vehicles. With highly trained technicians and attention to detail, our team has proven excellence in all their work. With every vehicle we take great care in handling each and every aspect of the service. Your vehicle is important to you, so that makes it important to us. Our family friendly customer service together with our state of the art diagnostic equipment makes Frank's Automotive your dealership alternative. If you ask our customers in Sacramento about us, you will hear how well we treat both the vehicle and the person. You are well taken care of at Frank's!
Why Choose Us?
Courtesy Rain Check for Services Completed to be used at the client discretion at a later date up to 30 days
50 Point Courtesy Inspection
2 Year Unlimited Mile Warranty
Client Lounge Built For Comfort