German Engine Repair in Sacramento
Experienced Auto Technicians for German Automobiles
Has your check engine light come on, or has your engine been acting strangely or presenting problems? It may be time to bring your vehicle into a German auto repair shop in Sacramento for an inspection. At Frank's Automotive, we are locally owned and have more than 50 years of experience under our belt and can diagnose and fix virtually any issue you may have.
A few common signs that there may be an issue with your engine include the following: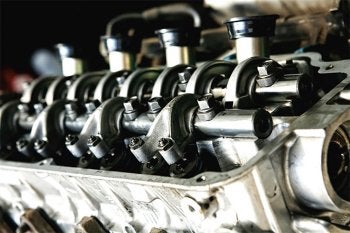 Your car keeps hesitating while on
Your car is going through oil quickly
You hear strange noises
Your check engine light is on
Smoke is coming out of the exhaust
Your car fails to start at all
Why You Might Need Engine Repair
Lack of Car Maintenance – Your mechanic will tell you that it's important to maintain your car, and there are countless good reasons to support this claim. Failing to practice proper car maintenance can lead to a dramatic dip in efficiency over time. This lack of efficiency can cause your engine to work harder to keep your car moving, which will in turn reduce the working life of your vehicle. If you haven't been sticking as closely to your maintenance plan as you should be, talk to the engine repair specialists at Frank's Automotive for help.
Ignoring Problems – Recognizing problems in your vehicle affords you the ability to seek professional engine repair before they get worse. Ignoring the problems, on the other hand, can make your engine repair experience a lot more extensive. It's best to talk to the team at Frank's Automotive as soon as you notice any issues with your vehicle so you can take care of them before they start to affect other aspects of the car's performance and longevity.
Seeking Engine Repair After an Accident
The first order of priority after a car accident is always to address the medical needs of anyone involved in the ordeal. Once the dust has settled and everyone can clear the area, you should make it a point to meet with the car care professionals at Frank's Automotive. Although you should always talk to your engine repair professionals after a collision or accident, there are a few particular warning signs you should look out for. Smoke coming from the exhaust, a decrease in fuel efficiency, and failing to start can all imply problems with your engine. Bring these symptoms up when you meet with your automotive technician.
Why Your Check Engine Light Is On
The check engine light is designed to alert you to problems with the internal components of your vehicle, but what does it mean? Without the proper tools, it can be difficult to determine what a check engine light is trying to tell you. Either way, you should never ignore your check engine light when it comes on. Common reasons your check engine light might come on include problems with your catalytic converter, a loose gas cap, and a faulty mass airflow sensor.
Checking The Basics
Something everyone can & should do is Check The Basics. Check oil level, adding just what is needed never overfilling. Check you coolant level, do this when the vehicle is cold, making sure correct coolant is used or topping off with water. Checking tire pressures, always refer to manual or tire pressure sticker usually located next to VIN sticker. Other fluids, brake fluid power steering, & hydraulic fluids can also be checked, again verifying correct fluids are used. These basic checks are important to reassuring your vehicle is in proper repair in between routine servicing.
We can offer you a wide range of car repairs, including engine replacement like a gasket replacement, timing belt replacement, oil pump replacement, and more. Check out the Promotional Offers we have to ensure your repair goes as seamlessly as possible! You can rely on us to take proper care of your engine in our shop. Contact us at (916) 452-0917!
Why Choose Us?
Courtesy Rain Check for Services Completed to be used at the client discretion at a later date up to 30 days
50 Point Courtesy Inspection
2 Year Unlimited Mile Warranty
Client Lounge Built For Comfort