Brake Service in Sacramento
German Brake System Experts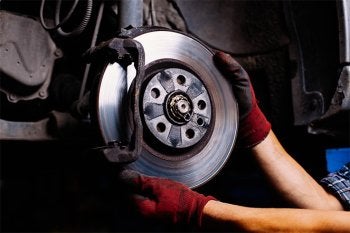 One of the most stressful and dangerous situations that can occur while driving are failing brakes. It is very important that you take quick action if your brakes are not performing properly to avoid an accident. At Frank's Automotive, we provide reliable and professional services for your German automobile in Sacramento. At Frank's Automotive, we specialize in the repair and maintenance of German cars and can assist you with virtually any problem that may present itself. We can adjust brakes, replace brake pads, or just provide a simple brake check.
A few signs that your vehicle's brakes need maintenance or repairs include:
Strange noises
Slow to brake
Jerking to a stop
Flashing dashboard light
With more than 50 years of experience, we have the level of knowledge and expertise you can rely on. If you suspect an issue with your brakes, you should absolutely not wait to get them checked out. Our Promotional Offers also ensure your service goes as seamless as possible! Come in today or call us at (916) 452-0917 to inquire!
Why Choose Us?
Courtesy Rain Check for Services Completed to be used at the client discretion at a later date up to 30 days
50 Point Courtesy Inspection
2 Year Unlimited Mile Warranty
Client Lounge Built For Comfort