Transmission Repair in Sacramento
German Automotive & Transmission Service
At Frank's Automotive, our mechanics are specially trained to work on German vehicles. With more than 50 years of experience, we can provide you with a wide range of transmission services for your automobile. Your vehicle is in competent hands when you hire us for quality German auto repair in Sacramento.
A few common indications that you have an issue with your transmission include: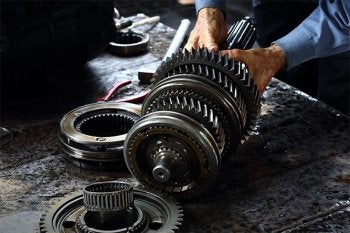 A strange burning smell coming from your car
Strange sounds while you are in neutral
Gears slipping while you are driving
Lack of response or delayed response
Large leaks underneath your vehicle
What Leads to a Transmission Repair?
Abnormal Noises – A few different types of automotive problems can lead to abnormal noises, and yet sometimes your car might make strange sounds even when there is no real issue at hand. If you consistently hear a new, odd sound coming from your car, talk to the professionals at your transmission shop to see if you are in need of repair. From here, your transmission professional will likely be able to diagnose and fix the problem.
Slipping Gears – You need to be able to control your vehicle if you want to stay safe on the road, but certain symptoms of transmission problems can make this difficult. You know you should talk to the transmission repair specialists at Frank's Automotive if you notice your gears slipping. Coupled with delayed responses from your vehicle, slipping gears can make it particularly difficult to enjoy proper control over your car.
Leaks – When you move your car after a rainstorm, you'll notice a dry spot where the car was parked. If it's the space under your car where you find the moisture, you might be suffering from a leak. Leaking transmission fluid will fail to adequately lubricate your system and can cause it to overheat, so don't wait to seek transmission repair.
Repairing Your Vehicle Promptly
The more often you use your car, the more important it is to keep it in shape. Unfortunately, a vehicle that gets plenty of use may be overworked from time to time, so you should always look out for warning signs so you know when it's time to talk to your transmission repair specialist. You will be hard pressed to keep your car on the road if your transmission fails, so pay attention to these signs and don't wait to ask for help. You can also increase the working life of your transmission and vehicle by taking care of it and giving it the maintenance it needs.
How Transmission Repair Works
Transmission repair is a specialty service that you shouldn't try to handle on your own. The way a specific transmission repair will work depends on whether the transmission is manual or automatic as well as the nature of the problem you're dealing with. Not all transmission issues can be solved the same way, so look for an established transmission repair company that has experience working with automatic or manual transmissions.
If you have experienced any of these signs or suspect that you may be having an issue with your transmission, you may be feeling stressed out. A technician from our team can inspect and diagnose any problem you are having and offer a workable solution. We also have our Promotional Offers to show you how we appreciate your business! Call us today at (916) 452-0917 or bring your car in!
Why Choose Us?
Courtesy Rain Check for Services Completed to be used at the client discretion at a later date up to 30 days
50 Point Courtesy Inspection
2 Year Unlimited Mile Warranty
Client Lounge Built For Comfort