Fiftieth Anniversary 1969-2019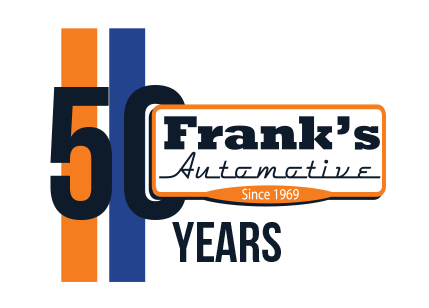 Celebrating The American Dream
It is hard to believe that 50+ years ago my parents, Frank and Angela Lettini, ventured out on their own to open Frank's Automotive. This is a brief story about the hard work and dedication of two people working together and making sacrifices, to fulfill their American Dream.
Dad and Mom both immigrated to Sacramento between 1958 and 1959. They left war-torn Italy to find better lives and greater opportunities. It was here in 1961 where they first met. During the summer of 1966, dad married his beautiful bride and together they set off on their journey. Over the next two years, they would see their family double with the birth of me and my brother Ray. Dad was working for a local dealer at the time, but he wanted to venture out on his own. With mom, they decided it was time to start their own business. By the fall of 1969, they opened Frank's Automotive at 4823 Folsom Blvd. The location was perfect, in the heart of East Sacramento, a great neighborhood with young families. The building was less than perfect. The floors were rutted, and no relief was given from the heat during the summer or cold in the winter. Nonetheless, they took great pride in calling it their own.
The business was growing and their first hires were family. My Uncles, Enzo Castellana, Elio Lettini, and Angelo Sardo came to work with them. So too would my Aunt Carmela Sardo, as an office manager. They too came to the states with the same hard work ethic and ideologies as my parents. Together they kept the German cars of East Sacramento in fine-tune. Soon, they outgrew their location. A larger one was needed, somewhere close, so they could continue to serve their clients.
During the fall of 1972, they purchased a plot of land at 5220 Folsom Blvd.  There, they would begin building what today is our current location. Construction began in February of 1973 and in 5 months it would be completed. On July 4th, 1973 everything was moved over from the old location and the following day they opened their doors. During those early years, mom would bring dad his lunch and dinner, with my brother and I in tow. During the evenings, while my father was working, she would bathe us in the wash-basin, put us in our pj's, and lay us down to sleep in the back of her station wagon. Watching my parents working together for the common good of the family was very inspiring and influential in who we would become.
The business continued to grow. In 1976 we hired Brian Russell. Brian may not have been related by blood but he was soon adopted into our family. At the same time, Ray and I began to take more active roles. During our summer breaks, dad would bring us to work. As 7 and 8-year-olds we proved to be more comic relief than actual help.  Our uncles, aunt, and Brian became our teachers and mentors. From them, we would learn the skills we carry with us to this day. Dad fueled our passion for customer service. At an early age, he told us the shop's motto, " If you like our work tell others. If not tell us." He explained, that criticism is not necessarily a negative, learn, grow, evolve, and use it to better yourself.
Through the years more would join our work family. Some may remember;  Rick Myers and his nephew Shane Johnston. My sweet Aunt Mary Castellana, who replaced Aunt Carmela. A young tech that came to work for us, John Vitkauskas. John would become my right-hand man, a friend, and a brother. Andy Langley, a motivated high school/college student, came to work as an apprentice. Two automotive technical school graduates, Zeke Ramirez, and Devin Wallace joined our team. It was rewarding to watch them develop as technicians. We also hired an Italian who shares in my passion for F1 Racing, Giuseppe Nardoni. Sharon Henry, a new office manager joined our ranks. Unlike past managers, Sharon shares in our passion for cars. Our family continues to grow with the addition of two new apprentices Mike Staveris, Zach Paladini, and Eli Siemering.
As we grew older, Ray and I chose different paths. Ray would go on to take charge of another one of my parent's businesses, a parts distributorship. He also became a successful restaurateur. My role at the shop evolved, from apprentice to technician, to manager, and now the owner. At the same time, my father was idling back and allowing me to grow into my new role. It was not easy, at times tenuous. Looking back at it,  now I can understand. He had forty years invested in growing his business. It became part of who he is. Letting go would be difficult, but he realized that the time had come.
Occasionally my father still comes in, he will make his rounds and reminisces.  Now he spends most of his time tending to his garden and pestering my mom. Mom spends her time taking care of the home, garden, and dad. They are always eager to spend time with their grandchildren, passing along stories, and their wisdom. Together they look back at what they have created and take pride in all they have accomplished.
Through the years we have been through a lot, from marriages to divorces, births, and deaths, from working together, to take on new opportunities. We shared these experiences as a family. Celebrating the good times, helping each other through the bad. My greatest moments in life were the birth of my children, Liliana and Luca, they are my pride and joy. Sharing with coworkers and clients was just as important to me as it was with my family. Through good and bad we continue moving forward, growing and evolving.
Throughout the years our philosophy has remained the same, treating clients and those who work for us the way we want to be treated. Doing what is right, and not necessarily what is profitable. We promise to continue providing the quality of care and work that we have offered in the last 50 years. Thank you, our clients, for your devotion and support. We promise to continue evolving with the industry, while not forgetting our most valuable assets, our clients.
With the Utmost Gratitude,
Nick F. Lettini
Archives
2022
2020
2019
2017
2016
2015