When you invest in a luxurious German vehicle, you will want to make sure that you provide it with top of the line car repair services. Would you go to your dentist to get your eyes checked? He may have some basic knowledge about the subject but is not qualified to work on it. Rather than bringing your car into just any auto shop in your local area, you'll want to book services with a shop that is dedicated to German car repairs in Sacramento . There are a few reasons why German cars need special car repair services.
We are familiar with the technical & mechanical workings of these vehicles. We have the proper tools, understanding, & experience to fix them right the first time. A team of technicians/mechanics at a German auto repair facility will have the knowledge that is needed to properly diagnose and fix these highly specialized vehicles . Your German facility will also keep European parts in stock, so you will not have to wait around while your shop orders a part. Overall, bringing your car in to a German auto specialist is a great way to preserve its performance, efficiency, and safety.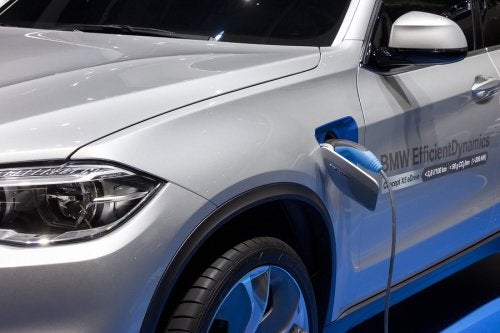 When your car is in need of brake repair , it can be very dangerous to neglect scheduling a service appointment for your vehicle. As your car's sole source of stopping power, your brakes allow you to keep your car under control as you drive down the road. To avoid a dangerous situation behind the wheel, you will want to schedule brake repairs in Sacramento as soon as you notice the signs of a problem. To help you know when it is time to schedule brake repair, here is an overview of three symptoms that something could be going wrong with your car's braking system.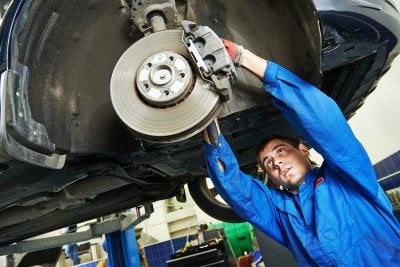 Brakes are the sole source of stopping power for your vehicle, so it is important when your vehicle is in need of brake repair not to neglect scheduling an appointment in Sacramento as soon as possible. To help you know when it is time to schedule brake repair, here is an overview of three symptoms that something could be is going wrong with your car's braking system.
Strange Sounds
To assess the safety and condition of your car's brakes, you'll want to use your ears. Many times, your brakes will start to make strange sounds when they are starting to develop mechanical troubles. Squealing noises, for instance, can indicate worn out brake pads. More serious noises include grinding or grating sounds, which may be signs of worn out brake pads & rotor/discs.
Soft Brake Pedal
As you get to know the ins and outs of your car's typical performance dynamics, you will grow accustomed to its typical brake feel. In the event that your vehicle is experiencing braking issues, you may start to feel that your brake pedal is excessively soft or mushy. A soft brake pedal can be caused by low brake fluid, or brake lines that have started to leak. To avoid issues in your master cylinder as well as potential dangers on the road, you will want to have your soft brake pedal fixed as soon as you can.
Shaking Sensations
Over time, your brakes may start to create unusual sensations when you hit the brake pedal. If your brake rotors have gotten warped due to damage or neglect, they may start to shake and shudder whenever you apply pressure to the brakes. To address any concerns that you may have about your car's braking system, be sure to make an appointment with a brake repair specialist in your area.

Your car's radiator is responsible for preventing your engine from overheating. If you are wondering about how your radiator works, be sure to watch this video. To cool your engine down, your radiator sends coolant fluid through a series of tubes. As the coolant passes through your engine, it will absorb heat from your car's engine. If your car is overheating, you may be in need of radiator repair in Sacramento.
To achieve the best results from your radiator repair, be sure to bring your European vehicle to a shop that specializes in German auto repairs . By booking an appointment at a top rated automotive repair facility, you will have the peace of mind that comes from knowing that your car is being fixed by a team of technicians.

Without a properly working transmission, you will have difficulty keeping your car on the road. By addressing the signs and symptoms of automatic transmission issues as soon as they appear, you can avoid catastrophic failure in your car's transmission system. A shop that offers transmission repair near Sacramento can diagnose your transmission problems and help to restore your vehicle to drivable condition. If you are wondering about how to care for your car's transmission, here is a look at some essential transmission maintenance advice.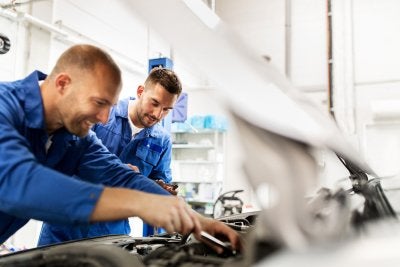 Schedule Regular Fluid Flushes
In order to keep your automatic transmission running smoothly, you will need to set up transmission fluid flushes at routine intervals. The ideal frequency for your transmission fluid changes depends on the specific year, make, and model of your vehicle. Many mechanics recommend that car owners replace their transmission fluid every 15,000 miles. Placing fresh fluid in your transmission system will help to lubricate, cool, and clean out its many moving parts. But, it is important to note that a transmission service is not a fix all.
Look for Signs of Transmission Issues
To prevent a minor transmission problem from becoming a major maintenance issue, it is a good idea to be on the lookout for signs and symptoms of transmission issues. If your transmission seems to be slipping out of gear , harsh shifts, or having trouble shifting out of neutral, you will want to bring your car into the auto shop right away. Other signs of transmission problems include fluid leaks, burning odors, and strange sounds coming from under the hood of your car.
Take the Time to Warm Up Your Car
Every system in your car can benefit from getting to warm up before you drive off first thing in the morning. By letting your car idle for a minute or so before you shift out of park and start to drive, you can ensure that your transmission fluid is able to fully lubricate your entire transmission system. If you have further questions about the art of transmission maintenance and repair, do not hesitate to get in touch with your local transmission repair specialist.