A dirty engine can cause significant wear and tear on the mechanical components of your vehicle. In this video, you will learn some essential tips for performing engine repair on your vehicle. To protect your engine from wear, you can apply an engine degreasing product at regular intervals. The degreaser will remove any dirt and buildup, allowing your engine's parts to operate more smoothly. Along with cleaning your engine, you can also extend its lifespan with routine engine repair in Sacramento .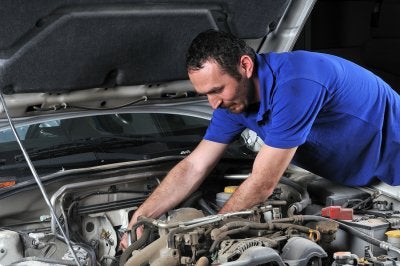 If your check engine light is on, do not hesitate to contact a qualified mechanic that services your local area. A mechanic that specializes in repairing and maintaining German cars will be able to provide you with quality services that are tailored to the needs of your luxurious vehicle and its high performance engine.
Does You Vehicle Burn Oil?
Are you having to add oil in between oil changes, but there are no visible oil leaks? Your engine could be burning oil. 1 quart every 1000 miles is quite normal & acceptable.
Problem that arises when your vehicle burns that oil, it leaves behind carbon & sludge. (It is like burning oil in a fry pan. A portion of that oil remains as thick sludge or carbon.) That carbon restricts & plugs up oil passages in your engine & it's components. It is important to remove as much of that build up as possible. That is why we at Frank's Automotive recommend our Bluechem Premium Engine Oil Service . Bluechem softens, breaks up, & encapsulates those carbon molecules allowing them to be flushed out with the old oil. This allows the new oil to better lubricate your engines interior components. The benefit from this is it helps to restore performance & efficiency. Read more about Bluechem .